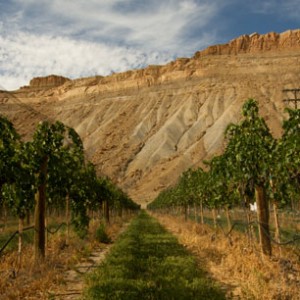 Recently, while on a four-state roadtrip, time allowed for a delightful stop in Palisade, Colorado. After many hours of driving, this valley was truly a sight to behold. It is such a contrast to the surrounding area. Palisade is 13 miles east of Grand Junction, Colorado on I-70.
The orchards, the fruit stands, and, oh, did we mention the wineries? No mirage here. We were really seeing grapes growing out there. Our first stop was at Grand River Winery (www.grandriverwines.com). As we cooled off in the welcoming tasting room, we reviewed the extensive wine list. We sampled and chatted with the friendly server. Since it was such a hot day we opted for a bottle of the Desert Blush. It's a chillable rose and is said to be the color of a Western Colorado sunset. Their pairing suggestions included the following items: Grilled/BBQ Salmon, grilled meats, carne asada or Cajun foods.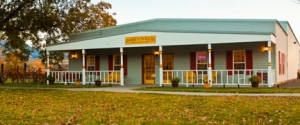 Next stop… the wineries next door. Under the heading of Confre Cellars, Inc. fall several wineries in one beautiful location. The first one we tried was St. Kathryn Cellars (www.st-kathryn-cellars.com) . They had a wonderful selection of fruit wines. There was Blueberry Bliss, Cranberry Kiss and even Strawberry Rhubarb (I think that one is definitely an acquired taste). Our purchase was the Golden Pear; it had a lovely finish and was just darn tasty. It's said to go especially well with soft cheeses and pork. After a short walk through the tasting room, we arrived at our next tasting destination.
That was a quick transition! Now we are in the Confre Cellars. They are known for their fruit and grape wines, and honey wine, or mead. Well, we found a favorite there, and that would be the Mango wine! Yup, that's what we said, mango. It was the most unusual and refreshing wine we've ever tasted. And they were right, it would go wonderfully with Mexican or Thai food.
Also located in the Confre Cellars is the Colorado Fudge Factory. The free samples were enough to tickle your taste buds. We had way too many favorites. It's a good thing they have the "Buy 1 lb. and get _ lb. Free" offer.
By now we were hungry and know of a wonderful little place in town called the Slice of Life Bakery. They make yummy, simple sandwiches on fresh-baked bread, with fresh garden produce. And save room for dessert, they make the best ice cream sandwiches with their own cookies and homemade ice cream. And if you are really lucky, look on the counter by the register for a bottle of their special grilling sauce. That day they had the Sweet Plum Grilling Sauce, made by Palisade Garden Fruit Co. It is the best! After peach season, they have a peach grilling sauce which is out of this world as well.
Sadly it was time to get back on the road and push on east toward Silverthorne, Co. We will be back, Palisade, to enjoy the wonderful and delicious harvests of your beautiful valley.
For more on Palisade and the surrounding area, please visit www.palisadecoc.com and www.visitgrandjunction.com.
Cheers!
Head Wino